Malaya
The Medical Officer of The British Battalion
The British Battalion was well served by its MO, Captain A Roy, who had been posted to the 1st Leicesters in January 1941. At the time of the amalgamation of the Leicesters with the Surreys, he was suffering from both ear drums burst and shrapnel wounds in his arm. Captain Roy has paid the following tribute to his medical section.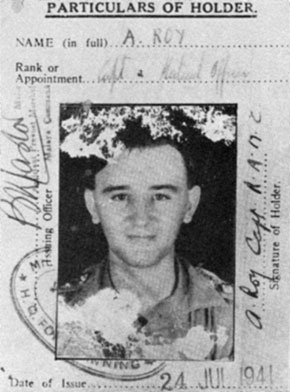 Captain A Roy RAMC.
'I should mention that Sergeant B W Brown ('Nosher') of the Surreys was my sergeant and a real tower of strength through the action, and subsequently in Thailand. The bandsmen came under my jurisdiction as stretcher bearers, and 1 can never speak too highly of them for the work they did under most difficult conditions and under fire'.
Colonel Morrison, writing later in the Regimental History of The Royal Leicestershire Regiment, had this to say about the doctors in the prison camps.
'Our own medical officers were, with very few exceptions, magnificent. Supplies of medical stores from the Japanese were infrequent, variable and insufficient. Our MOs worked wonders with wood and water and their own ingenuity, plus some salt and the meagre medical stores. The death roll would have been incomparably greater if it had not been for the efforts and the ability of those devoted doctors.
Mention must be made of our 1st Leicestershire, British Battalion and No.6 Battalion MO, Captain A Roy, known to everyone as 'Alfie'. Everyone had confidence in him and nothing was too much trouble for him. He was a slight man with bad health but a big heart, and he really nursed the sick. When he caught dysentery, the Jap MO in the Camp gave him some emetine to cure himself. (The Japs were indifferent to what happened to most of us, but they were anxious to keep our medical officers alive, so that they could have more men available for work). Roy, without telling anyone, used the emetine for one of his patients. He was later awarded the MBE'.
« Previous

Back to List

Next »