The Middle East
Recommendation for Award of Distinguished Conduct Medal
in respect of No.6079585 WO II (CSM) Walter Webb
During the attack on ABU SALAMI on 23rd May, 1939, 'C' Coy HQ was suddenly fired on from close range in thick country and the Company Commander was killed. CSM Webb at once took charge and organised the fire which disposed of the three enemy who had killed the Company Commander.
Almost at the same time the only other officer in the Company was wounded. CSM Webb was left in sole command of the Company for the rest of the action.
He collected a party of men and led them himself round the left flank of a position from which he was able to direct fire which enabled the remainder to advance over the crest of the hill. All the time he was himself under heavy fire.
The promptness with which he assumed command of the Company, his complete disregard for his personal safety, and his coolness under heavy fire, not only proved a steadying influence on the men and a magnificent example, but also was largely responsible for the successful capture of the enemy position.
This is not the first time that CSM Webb has distinguished himself. Ever since his arrival in Palestine this Warrant Officer has been conspicuous for his leadership and an example to all ranks at all times.
| | |
| --- | --- |
| Tulkarm | (Sd) R.K. Ross Lieut.-Colonel |
| 25/5/1939 | Commanding, 2nd Bn The Queen's Royal Regt |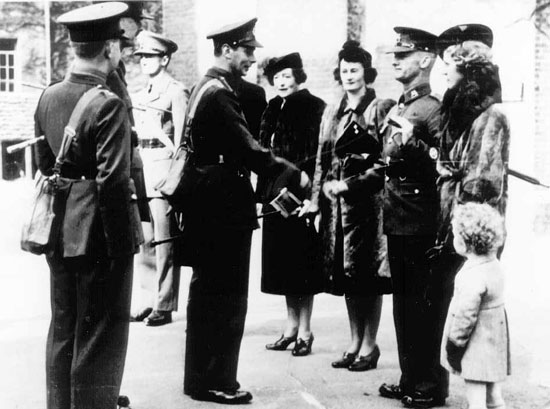 During the 5th-7th June the Battalion, together with columns from The Leicestershire Regiment and The Argyll and Sutherland Highlanders, carried out under Brigade control a complicated series of operations against a large gang of rebels between Azzun and An Nabi Elyas. Lt Col Ross was acting Brigade Commander and Major H.G. Veasey commanded 2nd Queen's. The Brigade killed 14 rebels without loss.
However, as the implications of the White Paper filtered through to the Arab leadership, activity lessened and large scale operations became less frequent. It is true that Jewish leadership was becoming disgruntled with the new proposals, and this period saw the embryonic formation of Jewish terrorist organisations. But the prospect of world war occupied everyone's mind, and at 7pm on the 3rd September the news that war had been declared against Germany reached Palestine.
« Previous

Back to List

Next »