Malaya 1956
In January and February, Company patrolling continued plus several large sweeps in estates conducted as Battalion operations - two CTs were killed, and one member of 'D' company wounded. A 'C' Company patrol had a contact in thick oil palms, and a female armed CT running away, was captured by an English planter with his two Malayan Police escorts after an exchange of fire. She gave much useful information resulting in the surrender of three more CTs and the virtual elimination of the Rengam Communist Branch. The Malayan Government amnesty had ended on the 8th February. Battalion HQ which had been based at Kota Tinggi, now moved to join Tactical HQ at Simpang Rengam in the lines of a pineapple estate.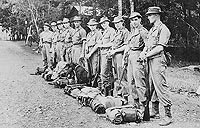 A patrol waiting to embus.

In April the Battalion was ordered to Singapore at short notice, in anticipation of civilian rioting; first based in overcrowded conditions and tents at Nee Soon Garrison where Internal Security training and planning took place. Later when riots failed to materialise, the Battalion was ordered to move to Selarang Barracks and take over permanent Internal Security duties from 1st King's Own Scottish Borderers. In mid-June, as the situation was quieter in Singapore, the Queen's were authorised to deploy three Companies in South Johore for counter-CT operations, while the remainder of the Battalion remained at Selarang; thus responsible both to GOC Singapore District for immediate call-out in case of emergency, and to GOC 17 Gurkha Division and Commander 99 Gurkha Infantry Brigade for the Geylang Patah, Pontian and part of Kulai Districts. Tactical HQ and 'D' Company (Major E B G Clowes) were established at Tampoi, 'A' Company (Major J B C Palmer) at Linden Rubber Estate, and 'B' (Major A C Lynch-Staunton) at Pekan Nanas Pineapple Estate.
On 6th July a six man patrol of 'B' Company under Sergeant Isaac, had a major success. In the thick undergrowth of a rubber estate, L/Corporal Hughes who was leading, indicated silently that CTs were ahead. Sergeant Isaac silently deployed the patrol into extended line and ordered 'Charge'. Four CTs started to run away firing as they went. Sergeant Isaac completely ignored their fire, halted his men 20 yards from the CTs and ordered 'Fire'. One CT fell but appeared to be about to throw a grenade so was dealt with by Private Cooper. The patrol continued to advance firing at intervals, and had killed three more CTs when there was a shout that Private J A Purves had been hit. He and Private Millhouse had pursued and shot a fifth CT, who in falling had shot Purves who later died. By resolute and skilful action this small patrol had killed five CTs, but its success was shadowed by the loss of Purves, who was buried with full Military Honours in Singapore the next day. Sergeant Isaac was awarded the Military Medal.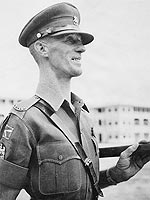 RSM J B Simmons.

In July, RSM J B Simmons MBE MC left the Battalion after 10 years of outstanding service as RSM, Originally in the Royal Sussex Regiment, he was posted to 1st Queen's in May 1944, and fought at Jail Hill, Kohima and all subsequent battles until the end of the War, being awarded the Military Cross. He was succeeded by RSM N Mew.
At the Malaya Command Rifle Meeting the Battalion again achieved considerable success - the Team led by Lieutenant Sharpe were champion British unit out of 13 teams, 3rd out of 30 in the all- unit championship, won the Falling Plate competition in record time, and the Revolver. The Jungle Range Team led by 2/Lieutenant J V Warner-Johnson did very well to come fourth in the jungle shooting against strong competition from the Gurkha and Malay teams with much longer jungle experience.
At the end of October serious disturbances occurred in Singapore following Government closure of two large schools. The pupils under left wing influence refused to leave, and when it was decided to turn them out by force, rioting broke out. That part of the Battalion at Selarang received orders to deploy at 2200hrs on 25th October, and the same order was passed to Tactical HQ at Tampoi. By 0400hrs the whole Battalion less 'A' Company and one platoon each of 'B' and 'D' Companies all in deep jungle, were in pre-planned position in Singapore. Those in the jungle were contacted at first light on the 26th when radio communication became possible, some were then ferried out by helicopter and some marched: all were at their allotted positions in Singapore by 1800hrs that day.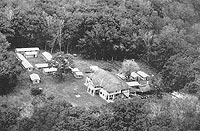 "A" Company Camp at Bukit Serempan.

At 0630hrs on 26th October the schools were cleared by the Police and large unruly crowds appeared on the streets. Half the Battalion manned pre-arranged strong points at important road intersections, while the remainder was held in reserve at strategic points. Rioting increased and attacks were made and damage caused all over the Island. Several times Companies and Platoons had to move against the rioters who were quick to disperse, although on occasion it was necessary to fire a few shots. The Battalion remained on duty mainly enforcing the curfew until 2nd November, when it returned to barracks, and shortly afterwards Johore operations were resumed.
The Battalion was now standing by to depart Malaya, but the Suez Crisis delayed the sailing date. At Christmas the whole Battalion was concentrated at Selarang in the Internal Security role, and on 31st December the Johore operational area and camps were handed over to 2nd Royal Welch Fusiliers. However, three Companies at a time were sent for operations in deep jungle - for six to ten days each, either moving on foot, by helicopter, or river boat, and supplied by air.
« Previous

Back to List

Next »