Malaya 1957
Private, Signaller. 1st Bn The Queen's Royal Regiment, Malaya 1954-1957.

At the end of January 'C' Company (Major P R H Kealy) killed two CTs in deep jungle in a protracted 15 days operation, while further south in the Geylang Patah area, in a Brigade operation, 'A' and Support Companies under command of Major S W Peet, accounted for three more CTs attempting to break through a cordon at night. During the last few weeks every Company was employed on operations at least once, and on the 14th February 1st Queen's finally left the jungle. The last man to do so was Sergeant Isaac MM of 'B' Company, the only member of the Company remaining from the time it became operational three years earlier.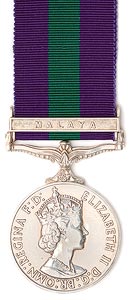 The General Service Medal with clasp "Malaya".

Mission Completed
Over the three years 46 CTs had been killed, and many surrendered as a direct result of the Battalion's operations, but figures give little idea of the vast effort to which all ranks contributed whether in operational Companies where it took thousands of man hours patrolling and in laying ambushes requiring silence, stillness and always instant readiness; in signal communications vital to operations, where the only link from the jungle to order resupply, to call-in helicopters for casualty evacuation, to determine accurate location from overhead aircraft, to pass information and orders, was by man-portable radio set - in this the operating standard achieved by the Signal Platoon was one of the major factors in the Battalion's success - and in the Battalion's other integral support elements. All essential parts of a cohesive and very effective whole. This against a background of enervating heat and humidity alternating with the contrasting chill and saturation of tropical downpours, the considerable discomfort of vicious insects including malarial mosquitoes, voracious leeches, and other less than friendly flora and fauna, all placing a premium on maintenance of full physical fitness. Nevertheless with leadership and good training, morale was high, and demands and hazards surmounted, whether in the jungle or elsewhere.
It is remarkable that throughout the three years, a large proportion of the Battalion had been National Service officers and men, and short-term (3 years) Regulars, who conducted themselves with credit, endured the hard conditions with courage and cheerfulness, and accepted responsibilities well beyond what might have been expected of them. However, the Battalion's success would not have been possible without the dedicated service of the Warrant Officers and Sergeants, who bore the brunt of operations, frequently exercising independent command when no Officer was available, and providing also the essential continuity as Company and Platoon Commanders, National Service men and short-term Regulars came and went.
Such achievement was not without its cost, and a memorial plaque originally installed in St George's Church, Tanglin Barracks, Singapore, but now in Holy Trinity Church Guildford, records seven Battalion members Killed In Action, and three who died on Active Service.
Honours and Awards, The Malayan Tour
M.B.E.    Major (Q.M.) F. Sharp, R.S.M. J. B. Simmons.
M.C.       Major M. A. Lowry, Major J. B. C. Palmer.
M.M.       Sgt. F. Isaac.
B.E.M.    Sgt. W. Redford, Cpl. T. Lamkin (also by Sgt. J. Saul while serving with 22 Special Air Service Regiment).
Mention in Despatches - Lieut.-Colonel H. R. D. Hill, Capt. A. G. Jones, Capt. P. A. W. G. Durrant, Capt. N. C. Frame, R.A.M.C., Lieut. J. G. W. Davidson, Band-Master E. Gaines, Sgt. R. P. Gould, Sgt. R. A. Jennings, Sgt. W. Geeves, Sgt. M. Battrick, L./Cpl. P. Baines.
C.-in-C.'s Certificate - Pte. R. D. Anstee.
| | |
| --- | --- |
| Roll of Honour | ; |
After farewell parades, commendations by General Officers Commanding, and parting presentations by the Government of Malaya, 17 Gurkha Division, 99 Gurkha Infantry Brigade and the Malaya Police the Battalion embarked at Singapore on the 2nd March 1957 and sailed for Southampton on the troopship HMT "Empire Orwell", played away by the bands of 1/2nd and 2/10th Gurkha Rifles - the close of another distinguished chapter in the Regiment's proud history.
« Previous

Back to List

Next »