East Surreys in South African War
The East Surrey Regiment in the South African War, 1899-1902
Fourteen years were to elapse before the 2nd Bn The East Surrey Regiment was again engaged in operations - this time on a much greater scale. In October 1899, hostilities started in South Africa when the Boers advancing south and westwards, captured the towns of Ladysmith, Mafeking and Kimberley. The recapture of Colenso was vital to the relief of Ladysmith, some 14 miles to the north. Colenso was captured, by 2nd Queen's on 15th December 1899, but all attempts to force the crossing of the Tugela river were unsuccessful, and the Brigade, which included 2nd Queen's and 2nd Surreys, had to withdraw.
A month later further attempts were made to relieve Ladysmith, but these too failed. Much heavy fighting ensued at Spion Kop, Vaal Krantz and Pieter's Hill, but eventually the Boers abandoned the Colenso line, and the way through to Ladysmith was open. This was not easy, the Boers contesting every yard of the ground, but eventually Ladysmith was entered on 1st March 1900.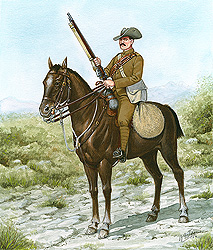 Surreys Mounted Infantry.


(Click to enlarge)
The 2nd Battalion lost 253 men killed and wounded. In the heavy fighting about Pieter's Hill, the first VC of the new Regiment was won by Pte Curtis for rescuing his severely wounded Commanding Officer under fire.
Although the principal towns of the Transvaal and the Orange Free State had fallen into British hands by 1st September 1900, the Boers fought on tenaciously, and it was not until June 1902 that peace was made.
Private (Later Sergeant) Albert Edward Curtis VC,
2nd Battalion The East Surrey Regiment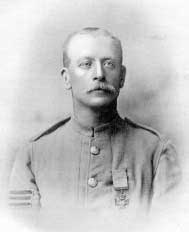 Private Curtis was born on 6th January 1866 and during his Army career rose to the rank of Sergeant before leaving the Service. He was appointed Yeoman Warder of The Tower of London on 30th May 1910 and served until November 1931. He died on 18th March 1940.
His medals, which included the Queen's and King's South African Medals and the Coronation Medal 1911 were sold initially at Sotheby's, London, for £1,700 in 1971, being purchased by Spink & Co. In October 2000 they were resold by Spinks and realised £40,000.
He had been decorated with his Victoria Cross by HRH The Duke of York at Pietermaritzburg, South Africa, on 14th August 1901.
His Citation reads:-
"On 23rd day of February, 1900, Colonel Harris lay all day long in a perfectly open space under close fire of a Boer breastwork. The Boers fired all day at any man who moved, and Colonel Harris was wounded eight or nine times. Private Curtis, after several attempts, succeeded in reaching the Colonel, bound his wounded arm, and gave him his flask - all under heavy fire. He then tried to carry him away, but was unable, on which he called for assistance and Private Morton came out at once. Fearing that the men would be killed, Colonel Harris told them to leave him, but they declined, and after trying to carry the Colonel on their rifles, they made a chair of their hands and so carried him out of fire". "Private Morton was awarded the Distinguished Conduct Medal."
Date of Act of Bravery
23rd February 1900
Wynne Hill
South Africa

London Gazette
15th January 1901