Private (Later Sergeant) Albert Edward Curtis VC
2nd Battalion The East Surrey Regiment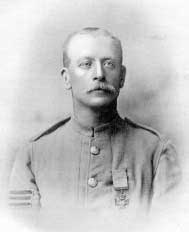 Private (Later Sergeant)
Albert Edward Curtis VC
Private Curtis was born on 6th January 1866 and during his Army career rose to the rank of Sergeant before leaving the Service. He was appointed Yeoman Warder of The Tower of London on 30th May 1910 and served until November 1931. He died on 18th March 1940.
His medals, which included the Queen's and King's South African Medals and the Coronation Medal 1911 were sold initially at Sothebys, London, for £1,700 in 1971, being purchased by Spink & Co. In October 2000 they were resold by Spinks and realised £40,000.
He had been decorated with his Victoria Cross by HRH The Duke of York at Pietermaritzburg, South Africa, on 14th August 1901.
His Citation reads:-
"On 23rd day of February, 1900, Colonel Harris lay all day long in a perfectly open space under close fire of a Boer breastwork. The Boers fired all day at any man who moved, and Colonel Harris was wounded eight or nine times. Private Curtis, after several attempts, succeeded in reaching the Colonel, bound his wounded arm, and gave him his flask - all under heavy fire. He then tried to carry him away, but was unable, on which he called for assistance and Private Morton came out at once. Fearing that the men would be killed, Colonel Harris told them to leave him, but they declined, and after trying to carry the Colonel on their rifles, they made a chair of their hands and so carried him out of fire". "Private Morton was awarded the Distinguished Conduct Medal."
Date of Act of Bravery
23rd February 1900
Wynne Hill
South Africa

London Gazette
15th January 1901
Medals of Sergeant AE Curtis VC
Photo acknowledgement, Medal Dept. Spinks London
Yeoman Warder
AE Curtis VC.
Bravery in South Africa

Rescue under fire of Lt Col RHWH Harris
by two soldiers of the 2nd Bn The East Surrey Regiment. Privates Curtis and Morton.
The medals of Colonel RHWH Harris are displayed in Room 2 Case 5
Memorial and Rededication Service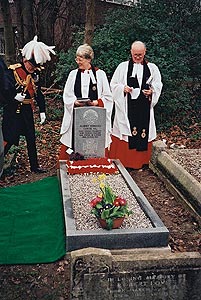 The new headstone after the dedication.
On 23rd February 1900, Private's Curtis and Morton rescued their Commanding Officer under enemy fire. For this act of outsanding gallantry they were awarded The VC and DCM respectively.
Exactly 100 years later, on 23rd February 2000, a Memorial Service was held at St Stephen's Chapel, Bells Hill, Chipping Barnet for Albert and Annie Curtis, and to re-dedicate their grave with a new headstone.
Among those attending the Memorial Service were descendants of Albert and Annie Curtis; Field Marshal, the Lord Inge, Constable of the Tower of London; Major General Geoffrey Field, the Resident Governor; Mr. J Cohen, the Mayor of Barnet; Sir Sydney Chapman, MP and a contingent of Yeoman Warders led by Chief Yeoman Warder, Hugh Thompson. Organisations represented were the Victoria Cross and George Cross Association, Middlesex Regiment Association and the Royal British Legion. The Queen's Royal Surrey Regiment Association Standard was carried by Mick Etherington and the Association was represented by Peter Henman, Tony Ramsey and Maurice Nason, all former members of The East Surrey Regiment.
In her address to the congregation, the Reverend Canon Christine Farrington, a great niece of Albert Curtis, welcomed everyone, particularly the three families to which Curtis had belonged. Namely the family of the East Surreys, the family of those from the Tower of London, and all the members of the Curtis family, many of whom had not met each other until that day. Continuing, she spoke of the importance of families in our lives, and recalled stories told to her by her mother about "Mr. Curtis", as he was known to them, the title he had carried at the Tower of London. A modest man, when asked about his award, he denied any bravery on his part, claiming that he had not been paid for several weeks and only saved the Commanding Officer's life to ensure that he got his money!
At the end of the Service the congregation moved out to the Churchyard for the re-dedication of the grave of Albert and Annie Curtis, previously unmarked, but now marked with a new granite headstone, on which, was carved the badge of the East Surrey Regiment and the Victoria Cross. During the short service, the Last Post and Reveille was sounded by a Drummer of the Princess of Wales's Royal Regiment.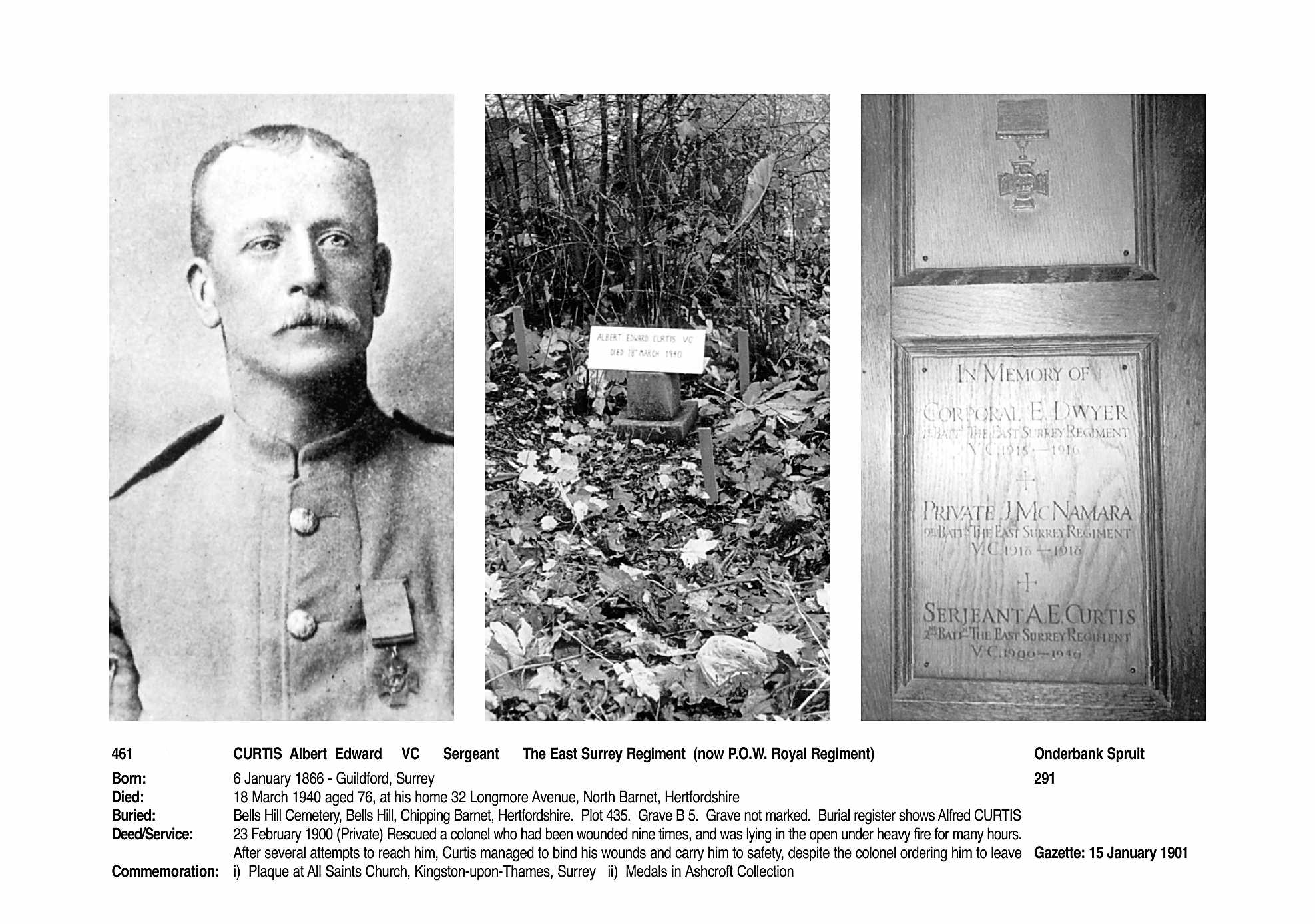 (Click image to view enlarged)
» Back to list

Next »
Related Links
---
External websites: