The Princess of Wales' Royal Regiment
(Queen's and Royal Hampshires)
1992 - Today
Formed on September 9th 1992 as a result of the Governments Options for Change by the amalgamation of The Queen's Regiment and The Royal Hampshire Regiment. HRH Diana, Princess of Wales was appointed the first Colonel-in-Chief in 1992. She relinquished this appointment in 1996. HM Queen Margethe II of Denmark, formerly the Allied Colonel-in-Chief was appointed Colonel-in-Chief in 1997.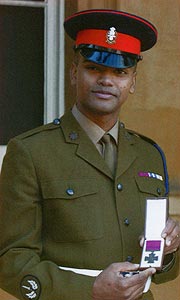 Private JG Beharry VC.
The Regiment has two regular battalions the 1st and 2nd and one Territorial Battalion, the 3rd Battalion. Regimental Headquarters remain at Canterbury with Western Headquarters at Winchester. The Territorial Band (The Kohima Band) continues to be based at Canterbury.
All the processes of change and amalgamation were loyally carried through, and the traditions and spirt of the old Regiments of the Line, established during over 300 years of service lives on in The Princess of Wales's Royal Regiment.
Since its formation the Regiment has served on operations in Northern Ireland, Zaire, Rwanda, Bosnia, Afghanistan, Iraq, Falkland Islands, Kosovo and the Congo. Both regular battalions have been reinforced by Territorial soldiers from the 3rd Battalion, and The London Regement.
During the 1st Battalions tour in Iraq in 2004, Private JG Beharry displayed repeated acts of extreme gallantry and unquestioned valour, for which he was awarded the Victoria Cross.
The 1st Battalion during this tour were awarded in addition to Private Beharry's Victoria Cross (VC), Two Distinguished Service Orders (DSOs), Two Conspicuous Gallantry Crosses (CGCs), Seventeen Military Crosses (MCs) and Twelve Mentioned in Despatches MIDs).
As a result of these awards the Battalion was the most decorated unit in the British Army
Further tours have been completed since 2004 by both regular battalions and additional honours and awards have been gazetted.