Regimental Timeline
The Second or The Queen's Royal Regiment
1660-1661: The Restoration
1660
Royalist Regiments
Protectorate Regiments

Farrell's and Fitzgerald's Regiments remain with rump of Royalist Army in exile.

Lillingstone's, Alsop's and Reynolds's Regiments in Dunkirk purged of republicans. Become Sir Robert Harley's and Lockhart's Regiments.

A doglock military flintlock of the 1660s
1661
The Tangier Regiment of Foot

England

Dunkirk

12th March

Farrell's and Fitzgerald's Irish regiments join Dunkirk garrison under Sir Robert Harley.

May

Andrew Rutherford, Earl of Teviot, assumes governorship of Dunkirk and Colonelcy of Reynold's Regiment.

September

Royal Warrent and recruiting for Peterborough's Regiment in London and Surrey.

14th October

First muster of Peterborough's Regiment on Putney Heath.

4th November

Peterborough's Regiment marches to Portsmoth for embarkation.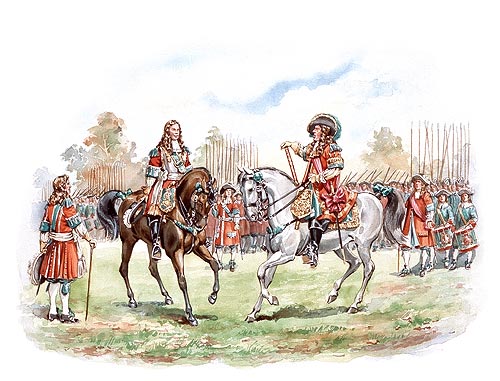 First muster, Putney Heath.
« 1657-1660

Back to list

1662 »