Sergeant Harry Cator VC MM Croix de Guerre (France)
7th Battalion The East Surrey Regiment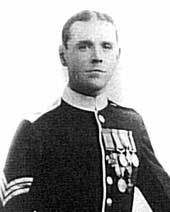 Sergeant Harry Cator VC, MM,
Croix de Guerre (caption)
Harry Cator was born at Drayton, Norwich, on 24th January 1894 and educated at Drayton School. He was married on 2nd September 1914 and enlisted the following day, going to France on 23rd June 1915. He won the Victoria Cross at Hangest Trench near Arras on 9th April 1917, for rescuing wounded. He was also awarded the Croix de Guerre (France) on 14th July 1917. His Victoria Cross was presented by King George V outside Buckingham Palace on 21st July 1917. He was wounded on 12th April 1917, both jaws being broken by shrapnel. In the Second World War he was commissioned, becoming a Temporary Captain in the 6th Norfolk Battalion Home Guard and was at one time Commandant of a POW camp near Cranwick.
He last appears in the Army List in December 1947 and died at Norwich on 7th April 1966, being buried at Sprowston Churchyard. His Victoria Cross and other medals were sold by Spinters on 6th June 1985 for £10,500.
His Citation reads:-
"For most conspicuous bravery and devotion to duty. Whilst consolidating the first line captured system his platoon suffered severe casualties from hostile machine-gun and rifle fire. In full view of the enemy and under heavy fire Sergeant Cator, with one man, advanced to cross the open to attack the hostile machine gun. The man accompanying him was killed after going a short distance, but Sergeant Cator continued on and picking up a Lewis gun and some drums on his way succeeded in reaching the northern end of the hostile trench. Meanwhile, one of our bombing parties was seen to be held up by a machine gun. Sergeant Cator took up a position from which he sighted this gun and killed the entire team and the officer whose papers he brought in. He continued to hold that end of the trench with the Lewis gun and with such effect that the bombing squad was enabled to work along, the result being that one hundred prisoners and five machine guns were captured".
Date of Act of Bravery
9th April 1917
Arras

London Gazette
8th June 1917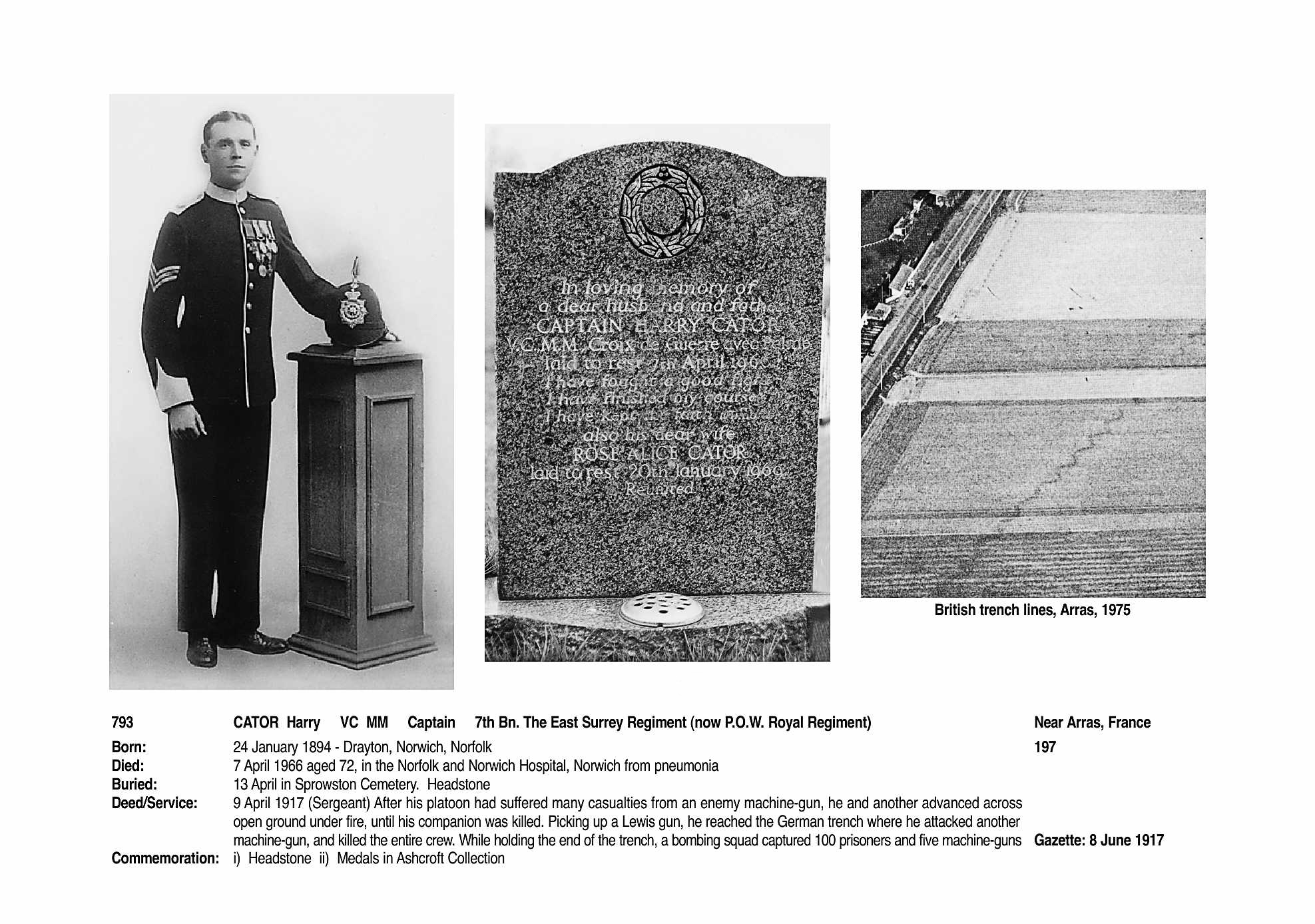 (Click image to view enlarged)
Related Links
---
External websites: