Lieutenant Colonel Arthur Drummond Borton VC CMG DSO
2nd/22nd Battalion The London Regiment (The Queen's)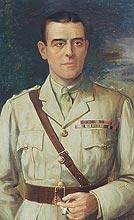 Lieutenant Colonel
Arthur Drummond Borton
VC CMG DS
Born at Cheveney, Kent, on 1st July 1883, Arthur Drummond Borton was educated at Eton and The Royal Military College Sandhurst, before being commissioned into the 60th Rifles with whom he served in the South African War. Retiring from the Army in 1910, he re-joined in 1914 and after service with The King's Royal Rifles he became an observer with The Royal Flying Corps in France where he broke his neck in three places and was declared unfit. Despite this he went to Gallipoli as a Lieutenant Commander in The Royal Naval Volunteer Reserve where he won the DSO. Appointed Second-in-Command of the 2nd/22nd London Regiment (The Queen's) in June 1916, he served in France and Palestine. At Tel-el-Sheria on 7th November 1917, he led his attacking companies against a strongly held enemy position.
He was decorated with his Victoria Cross and DSO by HM King George V at Buckingham Palace on 23rd February 1918 and later served in the North Russian Campaign of 1919. He was one of the pall bearers at the Burial of the Unknown Warrior on 11th November 1920. His death occurred on 5th January 1933 at Southwold, Suffolk, and his Victoria Cross was held in the Regimental museum at Clandon.
His Citation reads:-
"For most conspicuous bravery and leadership. Under most difficult circumstances in darkness and in unknown country, he deployed his battalion for attack and at dawn led his attacking companies against a strongly held position. When leading waves were checked by a withering machine-gun fire, Lieutenant Colonel Borton showed utter contempt for danger and moved freely up and down his lines under heavy fire. Reorganizing his command, he led his men forward and captured the position. At a later stage of the fight, he led a party of volunteers against a battery of field guns in action at point blank range, capturing the guns and the detachments. His fearless leadership was an inspiring example to the whole brigade".
Date of Act of Bravery
7th November 1917
Tel el Sheria

London Gazette
18th December 1917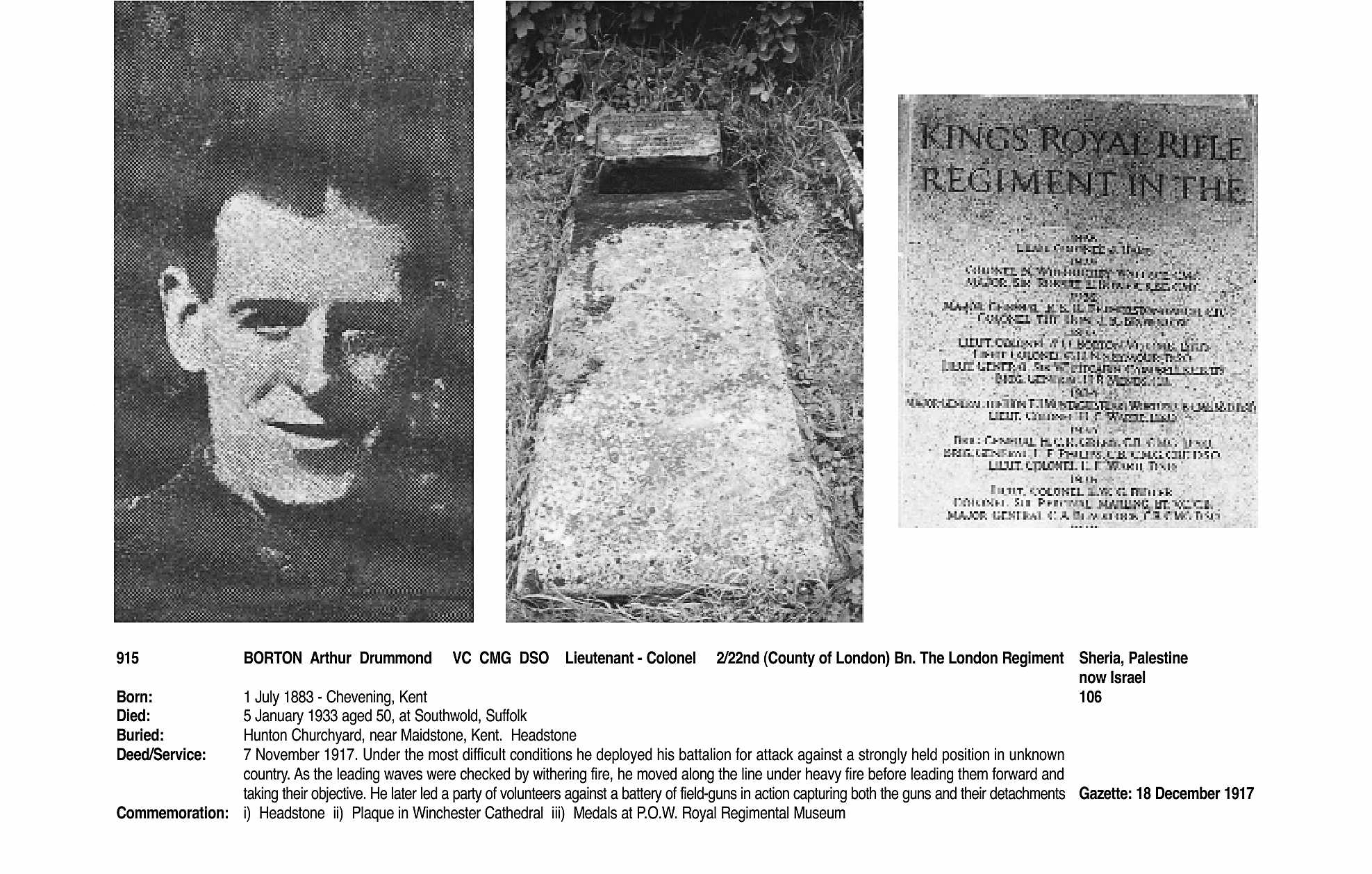 (Click image to view enlarged)
Related Links
Centenary Memorial Plaque

---
External websites: