Private Arthur Brooks GC
1st Bn The Queen's Royal Regiment (West Surrey)
Private Brooks was born on 5th July 1908 and died in 1957. He had connections with the town of Bognor Regis.
At the time of the Quetta Earthquake (31st May/1st June 1935) when The Queen's were returning from night manoeuvres, Private Brooks was engaged in rescue operations.
A man had been located some eighteen feet below a very unsafe wall where a party of Military Police had dug down to within five feet of him but could get no further.
Private Brooks then pushed his way through the remainder of the wreckage with his bare hands and removed the man uninjured.
Throughout the latter part of this rescue Private Brooks was in imminent danger of being buried himself. He was awarded the Empire Gallantry Medal and additionally the Viceroy's Certificate of Commendation for Gallantry.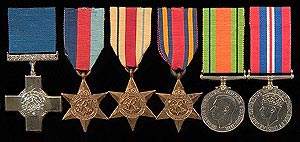 Related Links
---
External websites: