Lieutenant (later Lieutenant Colonel) Eric Charles Twelves Wilson VC
The East Surrey Regiment (Attached Somaliland Camel Corps)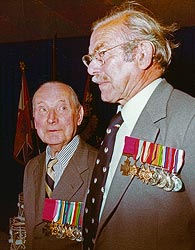 Colonel D Dean VC
and Lieutanant Colonel
ECT Wilson VC


Enlarge Image
Born at Sandown, Isle of Wight, on 2nd October 1912, he was educated at Marlborough and Sandhurst.
Commissioned into The East Surrey Regiment on 2nd February 1933, he was seconded to The King's African Rifles in 1937 and The Somaliland Camel Corps in 1939.
He served in the Western Desert with the Long Range Desert Group and in Burma, between 1941 and 1944 with 11th (Kenya) Bn The Kings African Rifles. He was seconded to The Northern Rhodesian Regiment in 1946. He retired from the Army in 1949. Although his citation said he was killed in action this was not so and he was decorated with his Victoria Cross by King George VI at Buckingham Palace in July 1942.
His Citation reads:-
"The King has been pleased to approve of the posthumous award of the Victoria Cross, for most conspicuous gallantry on active service in Somaliland, to Lieutenant (Acting Captain) Eric Charles Twelves Wilson, The East Surrey Regiment (attached Somaliland Camel Corps).
"Captain Wilson was in command of machine-gun posts, manned by Somali soldiers in the key position of Observation Hill, a defended post in the defensive organization of the Tug Argan Gap in British Somaliland. The enemy attacked Observation Hill on 11 August, 1940. Captain Wilson and Somali gunners under his command beat off the attack and opened fire on the enemy troops attacking Mill Hill, another post within his range. He inflicted such heavy casualties that the enemy, determined to put his guns out of action, brought up a pack battery to within 700 yards, and scored two direct hits through the loopholes of his defences which, bursting within the post, wounded Captain Wilson severely in the right shoulder and in the left eye, several of his team being also wounded.
"His guns were blown off their stands, but he repaired and replaced them and, regardless of his wounds, carried on, while his Somali Sergeant was killed beside him. On 12 and 14 August the enemy again concentrated field artillery fire on Captain 'Vilson's guns, but he continued, with his wounds untended, to man them. On 15 August two of his machine-gun posts were blown to pieces, yet Captain Wilson, now suffering from malaria in addition to wounds, still kept his own post in action until it was overrun."
Date of Act of Bravery
11-15 August 1940
Tug Argan Gap, Somaliland

London Gazette
14 October 1940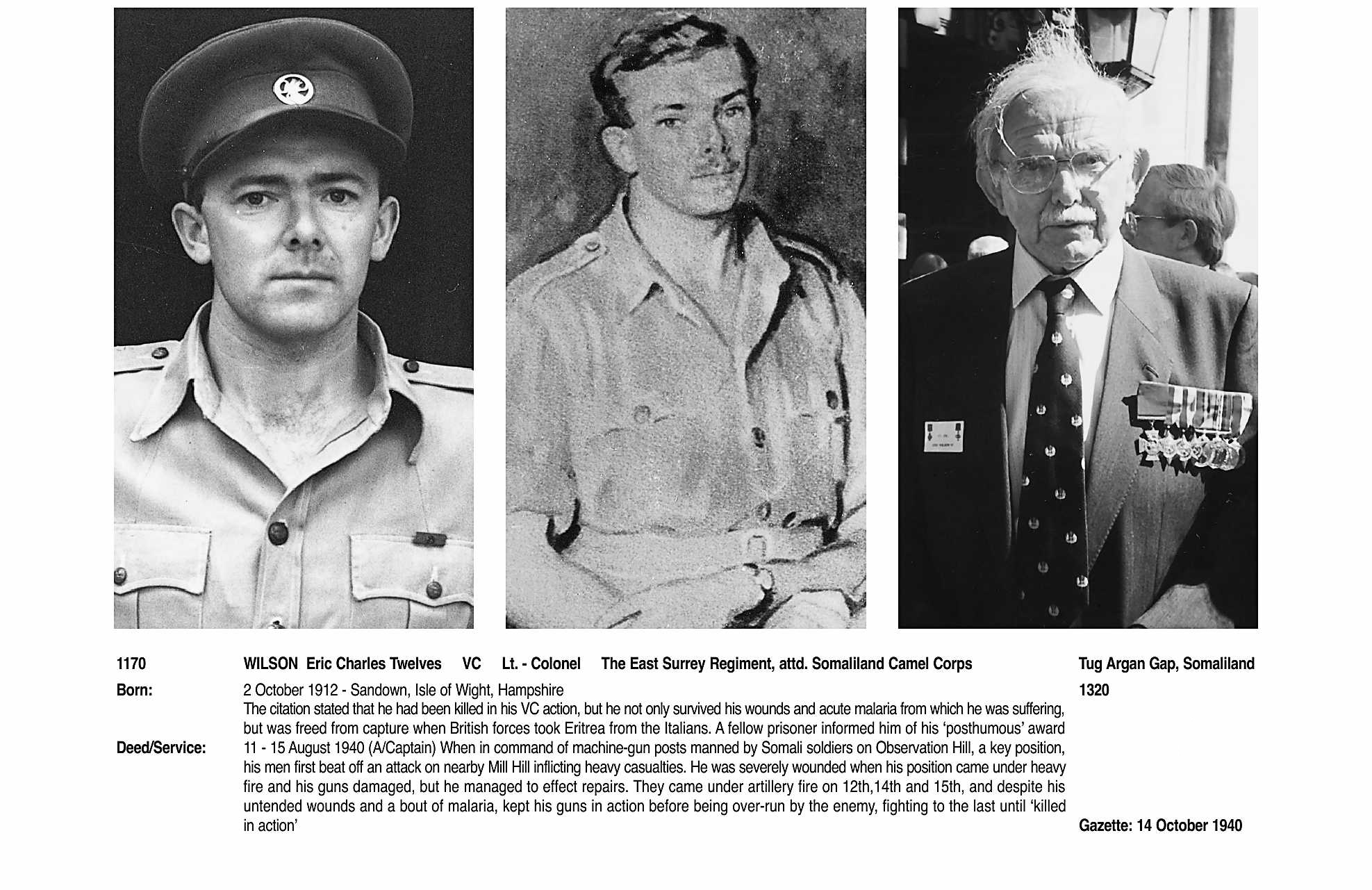 (Click image to view enlarged)
Related Links
---
External websites: