Brigadier George Rowland Patrick Roupell VC CB Croix de Guerre
Order of St George 4th Class
The East Surrey Regiment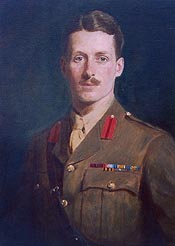 Brigadier
George Rowland Patrick
Roupell VC
George Rowland Patrick Roupell was born in Tipperary on 7th April 1892 and was commissioned into The East Surrey Regiment in 1912. His father had served in The 17th Regiment. On active service in France he won his Victoria Cross as a Lieutenant in a very gallant defensive action at Hill 60 with 2nd Lieutenant (later Major) B H Geary and Private (later Corporal) E Dwyer, on 20th/21st April 1915.
Lieutenant Roupell was decorated with his Victoria Cross on 12th July 1915 by HM King George V.
During 1918 he was attached to the British Expeditionary Force under the Command of General Edmund Ironside, which was sent to North Russia to strengthen the Allied Forces in support of the Tsarist Russians.
During a visit to one of the Tsarist regiments they mutinied, and he, and other soldiers were taken prisoner near Archangel and sent to Moscow. They were eventually repatriated in 1920.
Between the wars he served in Gibraltar, the Depot, India and the Sudan as well as holding several staff appointments. Lt Col Roupell commanded the 1st Bn from 1935 until July 1939. He had commanded the battalion during the First World War. His father commanded the battalion from 1895-1899.
He was promoted Brigadier and was commanding 36th Infantry Brigade of 12th Division near Amiens when on 20th May 1940 German armour overran his Brigade Headquarters. Brigadier Roupell ordered the survivors to split up into small parties and endeavour to join the first British unit they could find. He, together with his Staff Captain and a French interpreter, set off, and for a month, lying up by day and walking at night, finally arrived at a farm near Rouen where the interpreter left them. For two years the two officers worked as labourers on the farm until they were taken first into unoccupied France and then into Spain by the French Resistance. Ultimately they reached Gibraltar and were brought home by ship. On return to the United Kingdom, Brigadier Roupell was appointed Garrison Commander at Chatham, his last appointment before retiring from the Army. At the Queen's Coronation he led the Home Guard contingent.
In addition to his Victoria Cross he was awarded the Russian Order of St George and the French Croix de Guerre, and was Mentioned in Despatches. He was appointed a Companion of the Order of the Bath in 1956.
He was appointed a Deputy Lieutenant of Surrey in 1953, and became the last Colonel of The East Surrey Regiment, holding office in 1959 when amalgamation with The Queen's Royal Regiment took place to form The Queen's Royal Surrey Regiment. He died on 4th March 1974, aged eighty-two years, at his home in Shalford, Surrey.
His Citation reads:-
"For most conspicuous gallantry and devotion to duty, on the 20th April 1915, when he was commanding a company of his battalion in a front trench on Hill 60, which was subjected to a most severe bombardment throughout the day, though wounded in several places, he remained at his post and led his company in repelling a strong German assault. During a lull in the bombardment he had his wounds hurriedly dressed, and then insisted on returning to his trench, which was again being subjected to a severe bombardment.
Towards evening, his company being dangerously weakened, he went back to his battalion headquarters, represented the situation to his commanding officer, and brought up reinforcements, passing backwards and forwards over ground swept by heavy fire. With these reinforcements he held his position throughout the night, and until his battalion was relieved next morning.
The young officer was one of the few survivors of his company, and showed a magnificent example of courage, devotion and tenacity, which undoubtedly inspired his men to hold out till the end".
Date of Act of Bravery
20th April 1915
Hill 60, Ypres
Belgium

London Gazette
23rd June 1915
On the 20th April 1915 at Hill 60, Ypres the 1st Bn The East Surrey Regiment were involved in bitter fighting. Three members of The East Surrey Regiment, showing what is described as "most conspicuous bravery and devotion to duty", etched their way into history and gained Victoria Crosses in the process.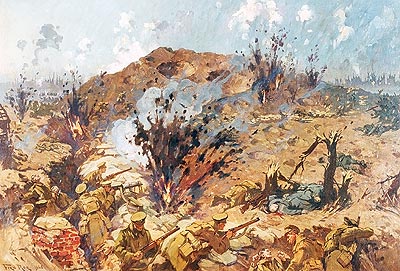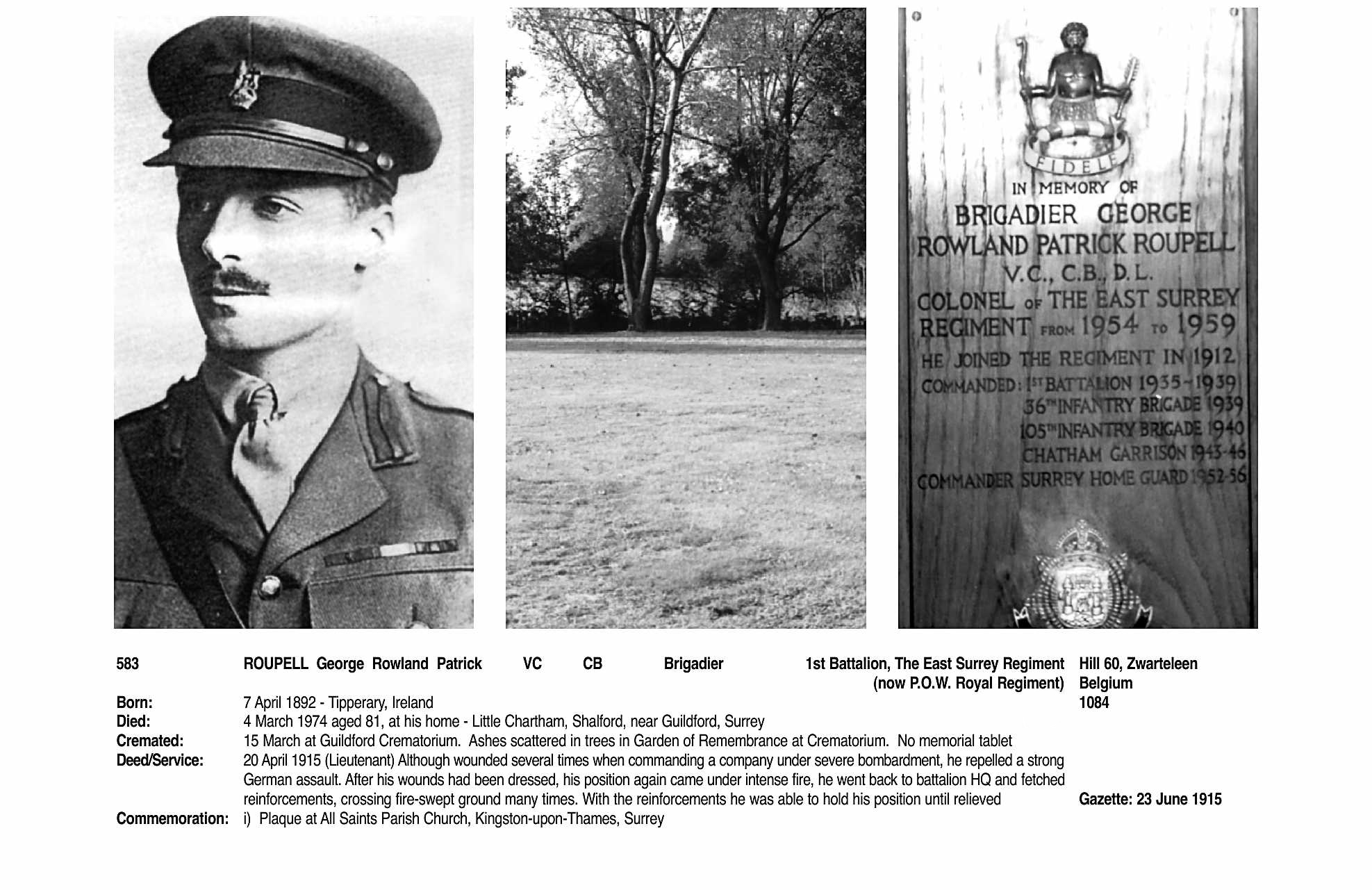 (Click image to view enlarged)